Jolene Armstrong
Associate Professor, English
Contact
Education
B.A. (University of Alberta)
Ph.D. (University of Alberta)
Biography
Jolene Armstrong is the course coordinator for ENGL 306, ENGL 308, ENGL 344, ENGL 345, ENGL 351, ENGL 358, ENGL 361, and ENGL 451. She also supervises student projects on occasion for ENGL 491 and ENGL 591 and for the MAIS program.
Before joining Athabasca University, Dr. Armstrong taught as a Sessional Instructor for the University of Alberta, Comparative Literature Program and Department of English, and for Grant MacEwan College, English Department, and worked as a tutor for Athabasca University's ENGL 155, ENGL 255, ENGL 302, and ENGL 358.
She also has experience teaching ESL and taught English in Singapore. Dr. Armstrong completed her Ph.D. at the University of Alberta in the Comparative Literature Program. Current research interests include examining the intersection of literature, writing, and visual art as manifested in current trends of art journaling, collage and mixed media painting as a form of auto-biography and story-telling. Dr. Armstrong's most recent publication is a collection of essays entitled: Maria Campbell: Essays on her Works, Guernica Press, 2012.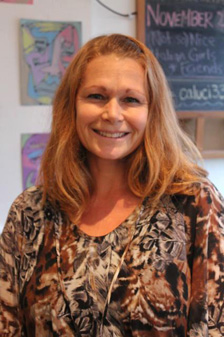 Updated July 24 2014 by Student & Academic Services